Lowdown: Spoken Word/Sung Choruses Tonight at the Playhouse
The latest of Chris Parreira's personal performer selections takes the stage Tuesday night at the Arcata Playhouse. CP Presents lefty spoken word artist/poet Chris Chandler backed by the rootsy acoustic guitar stylings and occasional lyrical interludes of Paul Benoit. Get a taste of what they're servin' up in the clip above.
It's also cribbage night at the Moose Lodge.
-Andrew Goff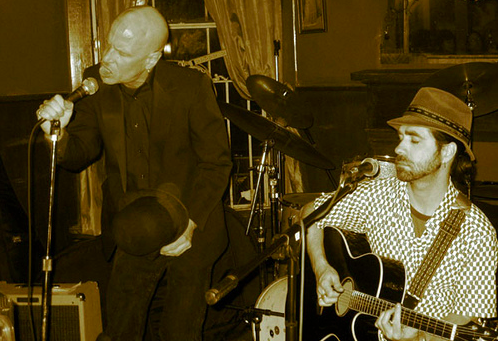 The Lowdown Fun Committee
Larry Likes
Events
Movie Showtimes
Broadway Cinema
CONJURING: 1:15, 4:00, 6:45, 9:30
DESPICABLE ME 2 2D: 12:35, 3:15, 5:50, 8:25
GROWN UPS 2: 12:25, 1:50, 3:05, 4:30, 5:40, 7:05, 8:15, 9:40
LONE RANGER: 12:45, 4:15, 7:50
PACIFIC RIM 2D: 1:35, 3:00, 4:40, 7:45, 9:00
PACIFIC RIM 3D: 12:00, 6:00
RED 2: 12:30, 3:25, 6:15, 9:05
RIPD IN 2D: 2:30, 7:20
RIPD IN 3D: 12:05, 4:55, 9:45
THE HEAT: 12:50, 3:40, 6:30, 9:20
TURBO 2D: 12:20, 5:30
TURBO 3D: 2:50, 8:00
WORLD WAR Z 2D: 1:00, 3:50, 6:40, 9:30
Mill Creek Cinema
CONJURING: 1:15, 4:00, 6:40, 9:20
DESPICABLE ME 2 2D: 12:20, 2:55, 5:35, 8:00
GROWN UPS 2: 12:55, 3:30, 6:10, 8:50
PACIFIC RIM 2D: 3:00, 9:00
PACIFIC RIM 3D: 12:00, 6:00
RED 2: 12:00, 2:45, 5:30, 8:25
RIPD IN 2D: 3:50, 8:40
RIPD IN 3D: 1:25, 6:15
THE HEAT: 12:50, 3:40, 6:25, 9:10
TURBO 2D: 12:45, 5:50
TURBO 3D: 3:20, 8:20
Minor Theatre
DESPICABLE ME 2 2D: 3:35, 5:55, 8:15
GROWN UPS 2: 4:25, 6:50, 9:15
RIPD IN 2D: 4:40, 7:05, 9:30