Lowdown: See That Band From That Video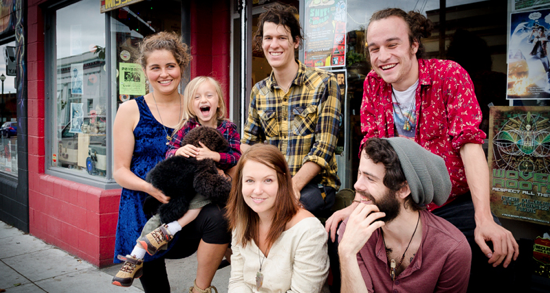 For your midweek Lowdowns, we like to give you a quick future heads up. So note that this coming Humboldt weekend includes returning annual events aplenty -- to name a few Annie and Mary Day in Blue Lake, Swauger Station Day in Loleta and the Orick Rodeo in ... well, yeah.
As far as tonight goes, if you follow the Lost Coast Outpost then you're familiar with Chuck Johnson's Humboldt Live Sessions music videos. The last edition featured Portland indie folk quintet The Breaking Yard filling Arcata's Missing Link Records with aural beauty. Well, Wednesday those same sounds will infest Eureka's Siren's Song Tavern.
If you did miss the last HLS (first off, shame on you) we'll go ahead and slap it up below. If that clip doesn't seduce, you've got other Wednesday options farther down.
-Andrew Goff
The Lowdown Fun Committee
Larry Likes
Events
Movie Showtimes
Broadway Cinema
DESPICABLE ME 2 2D: 11:55, 12:35, 3:15, 5:05, 5:50, 8:25
DESPICABLE ME 2 3D: 2:30, 7:40
LONE RANGER: 12:45, 2:00, 4:15, 5:30, 7:50, 9:00
MAN OF STEEL 2D: 1:30, 8:10
MAN OF STEEL 3D: 4:50
MONSTERS UNIVERSITY 2D: 11:50, 1:10, 2:55, 5:20, 6:45
MONSTERS UNIVERSITY 3D: 8:35
NOW YOU SEE ME: 6:40
THE HEAT: 12:20, 1:15, 3:10, 4:05, 6:00, 6:55, 8:50, 9:40
THIS IS THE END: 9:20
WHITE HOUSE DOWN: 12:00, 12:50, 3:00, 3:45, 6:10, 9:15
WORLD WAR Z 2D: 2:35, 3:55, 5:40, 8:05, 9:30
WORLD WAR Z 3D: 12:05
Garberville Theater
Mill Creek Cinema
DESPICABLE ME 2 2D: 12:20, 2:15, 2:55, 5:35, 7:25, 8:10, 9:40
DESPICABLE ME 2 3D: 11:45, 4:55
LONE RANGER: 2:00, 5:25, 8:50
MAN OF STEEL 2D: 1:40, 5:00, 8:20
MONSTERS UNIVERSITY 2D: 11:40, 1:00, 3:05, 6:35
MONSTERS UNIVERSITY 3D: 8:30
THE HEAT: 12:30, 3:20, 6:10, 9:00
THIS IS THE END: 9:30
WHITE HOUSE DOWN: 12:50, 3:50, 6:50
WORLD WAR Z 2D: 12:10, 3:45, 9:20
WORLD WAR Z 3D: 5:45
Minor Theatre
DESPICABLE ME 2 2D: 3:30, 6:00, 8:30
LONE RANGER: 4:55, 8:15
WORLD WAR Z 2D: 3:55, 6:35, 9:15