Friday's Lowdown, Plus What is Humboldt Doing For New Year's Eve?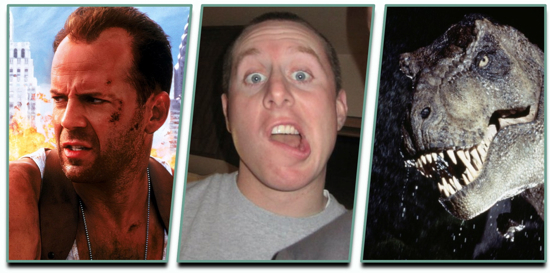 (Friday night's stars, left to right: McClane, Argyle, Rex)
Before we plow into Friday night, we implore you 1) take a gander at your Dec. 31 Lowdown listings and/or 2) submit your New Year's Eve event if you happen to be throwing one. Don't be left out in the cold, party people, unless, like, you're a polar bear and that's how you like to celebrate turning calendar pages. To each their own.
As far as this evening is concerned you'll notice that the Arcata Theatre Lounge and the Eureka Theatre, both formerly proud purveyors of the magic of Hollywood, are showing mooo-veees. Both scheduled films feature carnage and destruction. One features Jeff Goldblum. Got it?
Over at HumBrews, Savage Henry is hosting a comedy night with headliner Josh Argyle, a comedian who is legit funny and your Lost Coast Outpost supports and stuff. We were gonna include a YouTube clip of him making with the jokes to help you decide whether or not he's worth your entertainment dollar but, dammit, all the ones we could find were too long and of poor quality. Didn't paint our man in a good light, IOHO. So. Will one of Humboldt's hundred or so videographers get up to A-Town tonight and do this man some justice?
Thank you in advance. Other nuggets in your Friday Lowdown below.
-Andrew Goff
The Lowdown Fun Committee
Godlin Gets Behind
Events
Movie Showtimes
Broadway Cinema
47 RONIN 2D: 3:10, 9:05
47 RONIN 3D: 12:15, 6:05
AMERICAN HUSTLE: 2:10, 5:25, 8:40
ANCHORMAN 2: THE LEGEND CONTINUES: 11:55, 1:00, 2:45, 3:50, 5:35, 6:40, 9:30
FROZEN 2D: 12:00, 2:35, 5:15
GRUDGE MATCH: 12:55, 3:40, 6:30, 9:15
HOBBIT: THE DESOLATION OF SMAUG 2D: 1:20, 8:30
HOBBIT: THE DESOLATION OF SMAUG 3D: 4:55
HUNGER GAMES: CATCHING FIRE: 7:50
JUSTIN BIEBER S BELIEVE: 2:20, 4:40, 7:00, 9:20
SAVING MR BANKS: 11:55, 2:55, 5:55, 8:55
SECRET LIFE OF WALTER MITTY: 12:05, 2:50, 5:40, 8:35
WALKING WITH DINOSAURS 2D: 11:50, 3:15, 5:40
WALKING WITH DINOSAURS 3D: 12:50, 8:05
WOLF OF WALL STREET: 12:10, 4:05, 8:00, 8:25
Mill Creek Cinema
47 RONIN 2D: 3:10, 9:10
47 RONIN 3D: 12:15, 6:10
AMERICAN HUSTLE: 2:00, 5:15, 8:30
ANCHORMAN 2: THE LEGEND CONTINUES: 12:10, 3:05, 6:00, 8:55
FROZEN 2D: 12:50, 5:40
GRUDGE MATCH: 1:05, 3:50, 6:35, 9:20
HOBBIT: THE DESOLATION OF SMAUG 2D: 12:40, 4:20
HOBBIT: THE DESOLATION OF SMAUG 3D: 8:00
SECRET LIFE OF WALTER MITTY: 11:50, 2:40, 5:30, 8:20
WALKING WITH DINOSAURS 2D: 3:25
WALKING WITH DINOSAURS 3D: 8:15
WOLF OF WALL STREET: 12:00, 3:55, 7:50
Minor Theatre
HOBBIT: THE DESOLATION OF SMAUG 2D: 1:10, 4:45, 8:20
SECRET LIFE OF WALTER MITTY: 12:45, 3:30, 6:15, 9:00
WOLF OF WALL STREET: 12:20, 4:10, 8:00