Your Friday Night in Arcata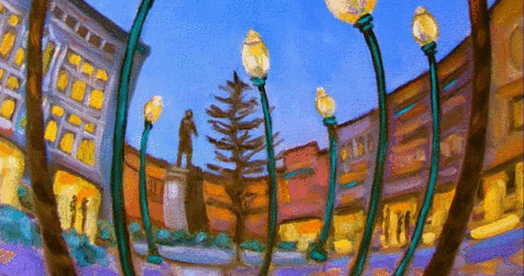 Arcata wins this week's Friday. The most obvious draw is, of course, Arts Arcata and all that goes with it. But since you're already on The Plaza ... :
The Humboldt State University College Democrats are hosting an evening of wonky trivia they're calling Politics and Pints tonight at HumBrews. If you have $3 and think your know jack about politics they would appreciate the funds which they'll use to take a joyous trip to 2014 California Democrats State Convention in LA.
Over at Jambalaya, it's a night full of musician's musicians: The Mike Keneally Band. The band's namesake dropped jaws for a spell in no less than Frank Zappa's band. Note: If you'd like to know more about this impressive lineup, head over to the Mad River Union site. Your Lost Coast Outpost cannot even pretend to be as enthusiastic about these guys as fanboy Kevin Hoover is.
If you're looking to get a pop/punk history lesson, the Arcata Theatre Lounge is screening Filmage: The Story of the Descendents/ALL. View the trailer below.
The Lowdown Fun Committee
Andy Approves
Events
The Music Man
Ferndale Repertory Theatre / 8 p.m. / $18 / $16 students/seniors
(FINAL WEEKEND) Con man Harold Hill poses as a boys' band organizer and leader and sells band instruments and uniforms to naive townsfolk before skipping town with the cash.
786-5483 / info@ferndalerep.org / Web site / View Comments
Movie Showtimes
Broadway Cinema
HUNGER GAMES: CATCHING FIRE: 2:20, 5:40, 9:00
THOR: THE DARK WORLD 2D: 12:50, 3:30, 6:10, 8:50
Mill Creek Cinema
Minor Theatre
HOBBIT: THE DESOLATION OF SMAUG 2D: 4:35, 8:10
HUNGER GAMES: CATCHING FIRE: 5:25, 8:45
PHILOMENA: 3:40, 6:05, 8:30