Live End o' Semester Finals in Blue Lake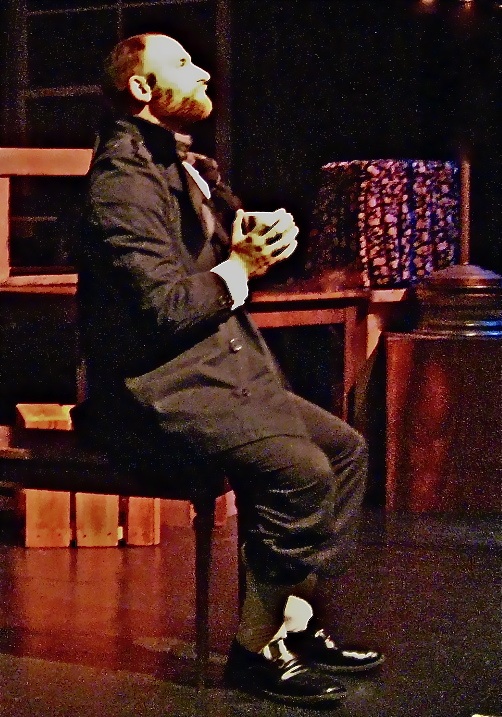 While all you college students are hunkering down and stressing about finals, we'll remind you that it could be worse: You could have to perform in front of a captive audience to graduate.
That's the process that will be playing out all weekend out at Dell'Arte. Thursday through Sunday, second-year graduate students enrolled in the Blue Lake theatre school's MFA program will be performing their Character Projects, the culmination of two months of in-depth physical study. The performances are pay-what-you-can and take place in the Carlo Theatre.
Also Thursday, Rock and Roll Hall of Famer Dave Mason (he was in Traffic) will make good on an event he had to cancel back almost two months ago at the Garberville Theatre. Do you remember his big '70s hit "We Just Disagree"? Either way, the show benefits the Southern Humboldt Schools Foundation. We can all agree that's a good thing.
-Andrew Goff
The Lowdown Fun Committee
Godlin Gets Behind
Events
Dave Mason
Garberville Theater / 7 p.m. / $38 / $35 adv.
Rock and Roll Hall-of-Famer and legendary singer-songwriter makes good on concert canceled last month. Proceeds benefit Southern Humboldt Schools Foundation.
View Comments
The Music Man
Ferndale Repertory Theatre / 8 p.m. / $18 / $16 students/seniors
(FINAL WEEKEND) Con man Harold Hill poses as a boys' band organizer and leader and sells band instruments and uniforms to naive townsfolk before skipping town with the cash.
786-5483 / info@ferndalerep.org / Web site / View Comments
Movie Showtimes
Broadway Cinema
DALLAS BUYERS CLUB: 12:15, 3:45, 6:30, 9:15
DELIVERY MAN: 12:30, 3:10, 5:45, 8:20
ENDER S GAME: 3:25, 8:35
FREE BIRDS 2D: 12:00, 2:10
FROZEN 2D: 11:55, 12:35, 1:10, 2:35, 3:15, 5:55, 7:50, 8:30
FROZEN 3D: 5:15
GRAVITY 3D: 1:00, 6:15
HOBBIT 3D MARATHON: 8:31
HOMEFRONT: 1:40, 4:15, 6:50, 9:25
HUNGER GAMES: CATCHING FIRE: 12:20, 2:20, 3:40, 5:40, 7:00, 9:00
JACKASS PRESENTS: BAD GRANDPA: 4:25, 9:35
LAST VEGAS: 3:00, 5:35
LEE DANIELS THE BUTLER: 6:40
OUT OF THE FURNACE: 12:40, 3:30, 6:20, 9:10
THOR: THE DARK WORLD 2D: 12:50, 3:30, 6:10, 8:50
Mill Creek Cinema
DELIVERY MAN: 3:10, 5:50, 8:55
FROZEN 2D: 3:35, 5:20, 6:20, 8:00
HOBBIT 3D MARATHON: 8:31
HOMEFRONT: 4:20, 6:50, 9:25
HUNGER GAMES: CATCHING FIRE: 4:10, 6:00, 7:30, 9:10
OUT OF THE FURNACE: 3:20, 6:10, 9:00
THOR: THE DARK WORLD 2D: 3:45, 6:30, 9:15
Minor Theatre
12 YEARS A SLAVE: 3:00, 6:00
ALL IS LOST: 3:15, 6:15, 9:10
HOBBIT 2D MARATHON: 8:31
HUNGER GAMES: CATCHING FIRE: 5:25, 8:45