Enjoy 40 Year Old Tofü Tonight at the Logger Bar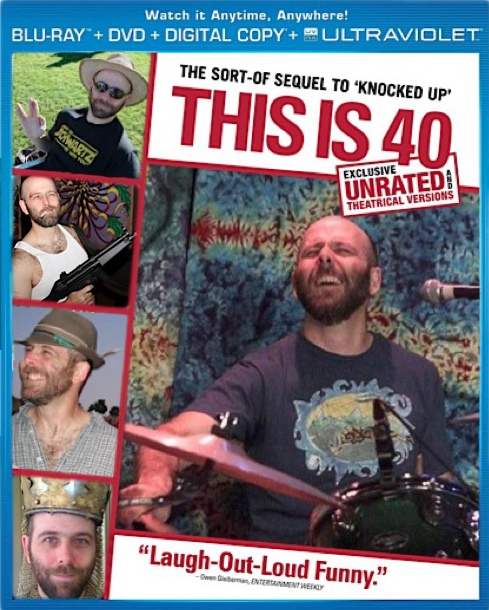 If you're any kind of live music consumer living in Humboldt, your ears have been been positively affected by Mike "Tofü" Schwartz. It could have been through the solid rhythms he provides for local bands Absynth Quintet and/or The Hip Joint. Maybe it was at one of the innumerable shows he'd run live sound for. Either way, dude is extremely invested in the sounds that emanate from behind the Redwood Curtain.
That is until now. Sadly, Thursday is Tofu Mike's 40th birthday. Now, we at the Lost Coast Outpost have not heard of any musicians continuing after they reach this dreaded milestone -- it could have happened, but, really what are the odds? -- so this is likely the end for him. Sorry, local ears.
Since, by tomorrow, the Tofu aisle may be closed forever, you're probably going to want to do your damnedest to get to the Logger Bar tonight for one last helping. There, Mike will be keepin' time for The Hip Joint. If you'd like some hints as to what Tofu wants for his birthday, the man took to Facebook last night with the following request:

Please do what you can to soothe Tofu's very tired muscles. (Happy birthday, friend.)
-Andrew Goff
The Lowdown Fun Committee
Godlin Gets Behind
Events
Movie Showtimes
Broadway Cinema
DALLAS BUYERS CLUB: 12:40, 3:45, 6:30, 9:15
DELIVERY MAN: 12:50, 3:30, 6:15, 8:55
ENDER S GAME: 3:25, 8:40
FREE BIRDS 2D: 12:10, 2:40, 4:55
FROZEN 2D: 11:55, 12:35, 1:10, 2:35, 5:15, 5:55, 7:50
FROZEN 3D: 3:15, 8:30
GRAVITY 3D: 1:05, 6:20
HOMEFRONT: 1:40, 4:15, 6:50, 9:25
HUNGER GAMES: CATCHING FIRE: 12:20, 1:20, 2:20, 3:40, 4:40, 5:40, 7:00, 8:00, 9:00
JACKASS PRESENTS: BAD GRANDPA: 7:15, 9:35
LAST VEGAS: 3:25, 6:10, 8:45
THOR: THE DARK WORLD 2D: 1:05, 3:50, 6:35, 9:20
Mill Creek Cinema
DELIVERY MAN: 3:20, 5:55, 8:30
ENDER S GAME: 4:10, 9:10
FROZEN 2D: 2:40, 5:20, 5:50, 8:00
FROZEN 3D: 3:10, 8:25
GRAVITY 3D: 6:50
HOMEFRONT: 4:20, 6:50, 9:25
HUNGER GAMES: CATCHING FIRE: 2:45, 4:10, 6:00, 7:30, 9:10
THOR: THE DARK WORLD 2D: 3:40, 6:30, 9:15
Minor Theatre
12 YEARS A SLAVE: 3:00, 6:00, 9:00
ALL IS LOST: 3:15, 6:15, 9:10
HUNGER GAMES: CATCHING FIRE: 5:25, 8:45