Drink a Beer For the Mad River

If you were angling to spend your Tuesday knocking back a few with a gaggle of enviros, well, good news. The sentinels of clean water at Mad River Alliance are throwing themselves an anniversary party to celebrate a year of watershed improvements. And they'll do it with beer.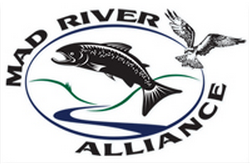 Those that 299 it over to Mad River Brewery have the chance to gorge themselves on local delectables -- Cypress Grove Chevre, Brio, Becks and Ramone's, to name a few -- while filling their ears with river-friendly tones of the Sunnybrae Jazz Collective. Oh, and since this is naturally a fundraiser, you may reacquaint yourself with the concept of silent auctions, this one featuring no shortage of local art.
Raise thy glass to the Mad! Long may she flow.
-Andrew Goff
The Lowdown Fun Committee
Andy Approves
Events
Movie Showtimes
Broadway Cinema
DALLAS BUYERS CLUB: 12:40, 3:45, 6:30, 9:15
DELIVERY MAN: 12:50, 3:30, 6:15, 8:55
ENDER S GAME: 3:25, 8:40
FREE BIRDS 2D: 12:10, 2:40, 4:55
FROZEN 2D: 11:55, 12:35, 1:10, 2:35, 5:15, 5:55, 7:50
FROZEN 3D: 3:15, 8:30
GRAVITY 3D: 1:05, 6:20
HOMEFRONT: 1:40, 4:15, 6:50, 9:25
HUNGER GAMES: CATCHING FIRE: 12:20, 1:20, 2:20, 3:40, 4:40, 5:40, 7:00, 8:00, 9:00
JACKASS PRESENTS: BAD GRANDPA: 7:15, 9:35
LAST VEGAS: 3:25, 6:10, 8:45
THOR: THE DARK WORLD 2D: 1:05, 3:50, 6:35, 9:20
Mill Creek Cinema
DELIVERY MAN: 3:20, 5:55, 8:30
ENDER S GAME: 4:10, 9:10
FROZEN 2D: 2:40, 5:20, 5:50, 8:00
FROZEN 3D: 3:10, 8:25
GRAVITY 3D: 6:50
HOMEFRONT: 4:20, 6:50, 9:25
HUNGER GAMES: CATCHING FIRE: 2:45, 4:10, 6:00, 7:30, 9:10
THOR: THE DARK WORLD 2D: 3:40, 6:30, 9:15
Minor Theatre
12 YEARS A SLAVE: 3:00, 6:00, 9:00
ALL IS LOST: 3:15, 6:15, 9:10
HUNGER GAMES: CATCHING FIRE: 5:25, 8:45