Watch Deerhunter 1) Perform on Jimmy Fallon Then 2) Rock The Depot (In That Order)
This just in: Wednesday night has been approved for rocking and, If you don't mind scraping the top of your head on the ceiling while you attempt said rocking, The Depot will be your destination.
Your midweek fun enablers? AS Presents, uh, presents sometimes experimental/always noisy, Atlanta alt rock band Deerhunter. With over a decade together, the band released their latest album Monomania in May of this year -- see them debut the title track on Jimmy Fallon's fine television programme above. If those sounds terrify you, scope your other Wednesday options in your Lowdown below.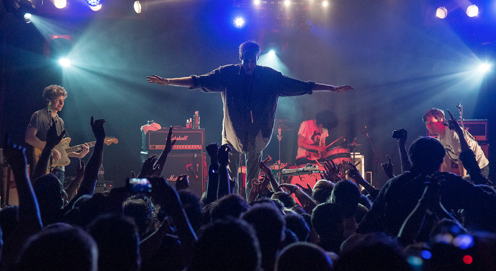 Events
Movie Showtimes
Broadway Cinema
2 GUNS: 1:25, 4:05, 6:35, 9:20
CONJURING: 9:30
DESPICABLE ME 2 2D: 1:50, 4:20
ELYSIUM: 12:05, 2:40, 5:30, 8:15
JOBS: 12:20, 3:10, 6:40
KICK-ASS 2: 1:55, 4:30, 7:05, 9:40
LEE DANIELS THE BUTLER: 12:00, 3:00, 6:05, 9:05
MORTAL INSTRUMENTS: CITY OF BONES: 11:50, 2:50, 5:50, 8:50
PARANOIA: 6:50, 9:25
PERCY JACKSON: SEA OF MONSTERS 2D: 12:10
PERCY JACKSON: SEA OF MONSTERS 3D: 2:45
PLANES 2D: 11:55, 2:20, 4:40, 7:00
THE WORLD S END: 12:45, 3:30, 6:15, 9:00, 9:30
WE RE THE MILLERS: 1:00, 3:45, 6:30, 9:15
WOLVERINE 2D: 5:25, 8:25
YOU RE NEXT: 1:30, 3:55, 6:20, 8:45
Mill Creek Cinema
ELYSIUM: 3:50, 6:30, 9:05
JOBS: 3:15, 8:40
KICK-ASS 2: 4:00, 6:40, 9:20
LEE DANIELS THE BUTLER: 3:00, 6:00, 9:00
MORTAL INSTRUMENTS: CITY OF BONES: 2:50, 5:50, 8:50
PARANOIA: 9:15
PERCY JACKSON: SEA OF MONSTERS 2D: 6:05
PLANES 2D: 4:40, 7:00
WE RE THE MILLERS: 4:10, 6:50, 9:30
YOU RE NEXT: 4:50, 7:15, 9:40
Minor Theatre
BLUE JASMINE: 4:15, 6:40, 6:45, 9:10, 9:15
CLOSED CIRUIT: 4:40, 7:00, 9:20
ELYSIUM: 3:30, 6:10, 8:45
JOBS: 3:40, 6:20, 9:00