What Did You Think Of Miley Cyrus' VMA Perf … Oops! Monday's Lowdown!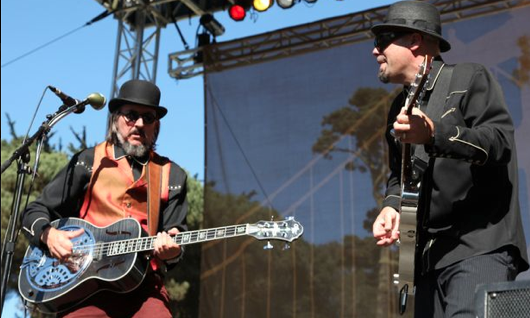 We know the internet is mainly reserved for VMA twerk coverage this morning, but we have business here. Sorry.
So, in non-Miley Cyrus news, Monday night Les Claypool will brings to Humboldt, what is this, his 87th-or-so musical incarnation? Only three months after Primus got all 3D in the Muni, Claypool's Duo De Twang will take the stage at Humbrews to deliver, well, twangy versions of Primus favs and other songs. Get a sample of the duo -- which also features slide guitar by Bryan Kehoe -- and their stripped down sound in the version of "Wynona's Big Brown Beaver" below, then seriously ask yourself if $35 puts you over your yearly Claypool budget or not.
It's Monday. So there's always cheap-ass bowling at Harbor Lanes if you're a little short.
-Andrew Goff
The Lowdown Fun Committee
Larry Likes
Events
Movie Showtimes
Broadway Cinema
2 GUNS: 1:25, 4:05, 6:35, 9:20
CONJURING: 9:30
DESPICABLE ME 2 2D: 1:50, 4:20
ELYSIUM: 12:05, 2:40, 5:30, 8:15
JOBS: 12:20, 3:10, 6:40
KICK-ASS 2: 1:55, 4:30, 7:05, 9:40
LEE DANIELS THE BUTLER: 12:00, 3:00, 6:05, 9:05
MORTAL INSTRUMENTS: CITY OF BONES: 11:50, 2:50, 5:50, 8:50
PARANOIA: 6:50, 9:25
PERCY JACKSON: SEA OF MONSTERS 2D: 12:10
PERCY JACKSON: SEA OF MONSTERS 3D: 2:45
PLANES 2D: 11:55, 2:20, 4:40, 7:00
THE WORLD S END: 12:45, 3:30, 6:15, 9:00, 9:30
WE RE THE MILLERS: 1:00, 3:45, 6:30, 9:15
WOLVERINE 2D: 5:25, 8:25
YOU RE NEXT: 1:30, 3:55, 6:20, 8:45
Mill Creek Cinema
ELYSIUM: 3:50, 6:30, 9:05
JOBS: 3:15, 8:40
KICK-ASS 2: 4:00, 6:40, 9:20
LEE DANIELS THE BUTLER: 3:00, 6:00, 9:00
MORTAL INSTRUMENTS: CITY OF BONES: 2:50, 5:50, 8:50
PARANOIA: 9:15
PERCY JACKSON: SEA OF MONSTERS 2D: 6:05
PLANES 2D: 4:40, 7:00
WE RE THE MILLERS: 4:10, 6:50, 9:30
YOU RE NEXT: 4:50, 7:15, 9:40
Minor Theatre
BLUE JASMINE: 4:15, 6:45, 9:15
ELYSIUM: 3:30, 6:10, 8:45
JOBS: 3:40, 6:20, 9:00