Searching For 'Mr. Humboldt' -- Manly Pageant Coming to Arcata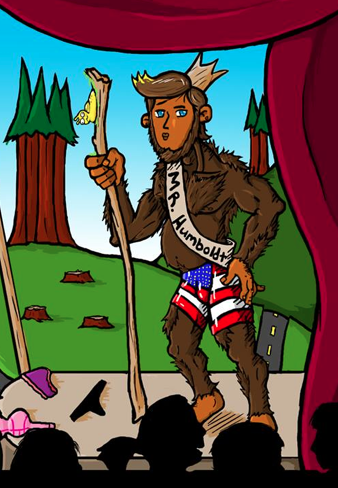 Who is the quintessential Humboldt male? Is he a dreaded out, bong-toting Plaza occupier? Is he a Wranglers-wearin', cow-herdin' ATV revver? Is it Hank Sims? Hard to say.
Well, the question above will have something of a definitive answer on November 16. That night, local bathroom reader Savage Henry will throw the first ever Mr. Humboldt Pageant, an all-male competition that aims to put a face on local masculinity complete with Q&A, talent and beach and formal wear segments.
So here's your homework, LoCO readers. This competition needs competitors? Do you think you're HumCo's man? Do you know someone who fits the bill? Can you construct the argument to effectively badger Hank into entering? Then you need to email event coordinator Emily Hobelmann at mrhumboldt2013@gmail.com and like up the associated Facebook page.
Note: There is, like, a good causes benefiting from all this silliness, specifically the Women's Crisis Shelter in Southern Humboldt, the Humboldt Literacy Project and Big Brothers Big Sisters of the North Coast. So go find some shameless dudes, the deadline to enter is September 15. Oh, and check your Monday Lowdown below. There.
-Andrew Goff
The Lowdown Fun Committee
Larry Likes
Events
Movie Showtimes
Broadway Cinema
2 GUNS: 1:25, 4:05, 6:45, 9:25
CONJURING: 6:50, 9:30
DESPICABLE ME 2 2D: 1:50, 4:20
ELYSIUM: 12:40, 3:25, 6:15, 9:00
JOBS: 12:20, 3:10, 6:00, 8:50
KICK-ASS 2: 1:35, 4:15, 7:00, 9:40
LEE DANIELS THE BUTLER: 11:55, 3:00, 6:05, 9:10
PARANOIA: 1:15, 4:00, 6:40, 9:20
PERCY JACKSON: SEA OF MONSTERS 2D: 12:50, 6:10
PERCY JACKSON: SEA OF MONSTERS 3D: 3:30, 8:45
PLANES 2D: 12:00, 2:20, 4:40, 6:55
PLANES 3D: 9:05
RED 2: 5:45, 8:30
SMURFS 2 2D: 12:30, 3:15
WE RE THE MILLERS: 1:00, 3:45, 6:30, 9:15
WOLVERINE 2D: 2:10, 5:15, 8:20
Mill Creek Cinema
ELYSIUM: 1:10, 3:50, 6:30, 9:10
JOBS: 12:05, 2:55, 5:45, 8:35
KICK-ASS 2: 1:20, 4:00, 6:40, 9:20
LEE DANIELS THE BUTLER: 12:00, 3:00, 6:00, 9:00
PARANOIA: 1:05, 3:40, 6:15, 8:50
PERCY JACKSON: SEA OF MONSTERS 2D: 12:45, 6:05
PERCY JACKSON: SEA OF MONSTERS 3D: 3:30, 8:40
PLANES 2D: 12:55, 3:20, 5:50, 8:15
WE RE THE MILLERS: 1:30, 4:10, 6:50, 9:30
Minor Theatre
ELYSIUM: 3:35, 6:10, 8:45
JOBS: 3:25, 6:15, 9:05
WE RE THE MILLERS: 3:55, 6:35, 9:15