Josephine Johnson's Stuff Gets Stolen? Humboldt Throws Together a Fundraiser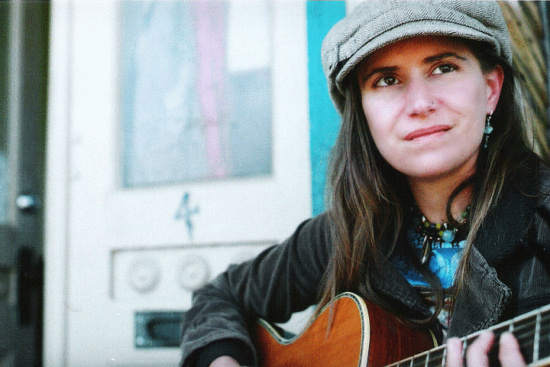 Invest in your community, folks. If you've chosen to live in Humboldt County, make sure you reap the most tangible benefits of existing in a place of this small size (other than all that "pretty nature stuff"): Get to know your neighbors. Put your face out there. Take some of your leisure time to help those less fortunate. You'll be better for it and, as we've experienced in recent weeks, when individuals who make Humboldt great hit hard times, Humboldt rallies around them right back.
The latest example of this phenomena can be seen Sunday afternoon. Earlier this week on the Lost Coast Outpost, you'll recall that local singer/songwriter/good guy Josephine Johnson had her house broken into while she was helping out at North Star Quest Camp. A significant portion of her musical gear stolen. That sucks big.
How do we attempt to make this right? Well, less than a week after the bummer members of HumCo's music community have thrown together an impromptu fundraiser at Mad River Brewery. If you head out and drop some love, you'll be greeted by the sounds of Blacksage Runners, Taxi, Buddy Reed and The Darien Gap (and probably Josephine too). The stuff may be gone, but it'd surely warm Josephine's heart to see you there.
(Full disclosure: Your LoCO correspondent thinks Josephine is cool and has plucked some strings in her presence, see below.)
-Andrew Goff
The Lowdown Fun Committee
Larry Likes
Events
As You Like It
Redwood Park / 2 p.m.
Plays in the park! After being banished to the Forest of Arden by her power-hungry uncle, Rosalind is forced to hide her identity from her new-found love, Orlando. She must find a way to woo him dressed as a man, hiding her true feelings and feminine ways, while flaunting her lightning wit.
View Comments
Victor/Victoria
Ferndale Repertory Theatre / 2 p.m. / $18 / $16 students/seniors
Ferndale Rep presents the story of a penniless soprano, named Victoria, colludes with a struggling gay impresario to disguise herself as a man named Victor, who entertains as a female impersonator known as "Victoria" - and as a result becomes the toast of Paris.
786-5483 / info@ferndalerep.org / Web site / View Comments
Shrek Matinee
Van Duzer Theater / 2 p.m. / $13 / $11 students/seniors
Humboldt Light Opera Company (HLOC) presents flying dragons, catchy tunes, flashy dance numbers, irreverent romance, and dozens of your favorite fairytale creatures together on stage
445-4310 / Web site / View Comments
Movie Showtimes
Broadway Cinema
2 GUNS: 1:25, 4:05, 6:45, 9:25
CONJURING: 9:10
DESPICABLE ME 2 2D: 1:40, 4:10, 6:40
ELYSIUM: 12:40, 3:25, 6:15, 7:35, 9:00
GROWN UPS 2: 1:50, 7:05
PERCY JACKSON: SEA OF MONSTERS 2D: 12:50, 6:10
PERCY JACKSON: SEA OF MONSTERS 3D: 3:30, 8:50
PLANES 2D: 12:00, 4:40, 7:00
PLANES 3D: 2:20, 9:10
RED 2: 12:10, 2:55, 5:40, 8:30
SMURFS 2 2D: 11:50, 12:30, 2:25, 3:10, 5:00, 5:50, 8:25
THE HEAT: 4:20, 9:30
TURBO 2D: 12:20, 2:45, 5:10
WE RE THE MILLERS: 1:00, 3:45, 6:30, 7:45, 9:15
WOLVERINE 2D: 11:55, 6:05, 9:10
WOLVERINE 3D: 3:00
Mill Creek Cinema
2 GUNS: 1:30, 4:10, 6:50, 9:30
DESPICABLE ME 2 2D: 2:55, 7:50
ELYSIUM: 1:10, 3:50, 6:35, 9:20
PERCY JACKSON: SEA OF MONSTERS 2D: 12:45, 6:05
PERCY JACKSON: SEA OF MONSTERS 3D: 3:30, 8:40
PLANES 2D: 12:55, 3:20, 5:50
PLANES 3D: 8:15
SMURFS 2 2D: 12:20, 3:00, 5:40, 8:10
TURBO 2D: 12:30, 5:25
WE RE THE MILLERS: 1:00, 3:40, 6:20, 9:00
WOLVERINE 2D: 12:05, 3:05, 6:10, 9:10
Minor Theatre
2 GUNS: 1:10, 3:45, 6:20, 9:00
ELYSIUM: 1:00, 3:35, 6:10, 8:45
WE RE THE MILLERS: 1:20, 3:55, 6:35, 9:15