Your Dog Has A Party To Go To This Weekend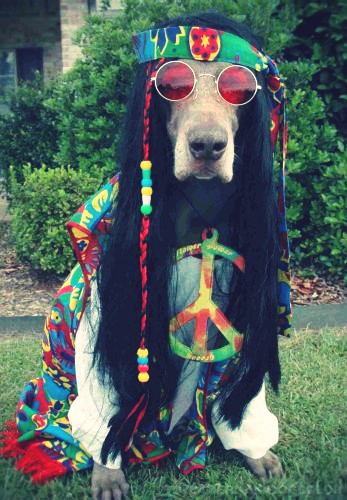 Lowdown frequenters will admit that we have a certain prejudice when it comes to the events we highlight. They tend to be geared toward humans. We're lame, we know. To pay penance, we want to give you a day early heads up on the canine party goin' down tomorrow.
Ruff! Woofstock, now in its 18th year, returns to Eureka's Halvorsen Park tomorrow to give man's best friend a day all for them. featuring the annual Mutt Strut through Old Town at 10 a.m. where canines and their human counterparts raise pledges to help homeless animals. Back in the park, you'll witness plenty of dog contests -- best costume, dog/owner look-alike, best wag, cutest dog, for example. The you also got your contests, face painting and petting zoo. Family fun and stuff.
And you can't throw the -stock suffix on your event with out music. Specifically, local bands Silver Hammer, Kindred Spirits and Rooster McClintock will be on tap to provide frequencies to be enjoyed by the ears of every species. Again, Woofstock is Saturday, but if you're also alive on Friday, there are lots of human events going on in your Lowdown below.
-Andrew Goff
The Lowdown Fun Committee
Larry Likes
Events
Movie Showtimes
Broadway Cinema
2 GUNS: 1:25, 4:05, 6:45, 9:25
CONJURING: 9:10
DESPICABLE ME 2 2D: 1:40, 4:10, 6:40
ELYSIUM: 12:40, 3:25, 6:15, 7:35, 9:00
GROWN UPS 2: 1:50, 7:05
PERCY JACKSON: SEA OF MONSTERS 2D: 12:50, 6:10
PERCY JACKSON: SEA OF MONSTERS 3D: 3:30, 8:50
PLANES 2D: 12:00, 4:40, 7:00
PLANES 3D: 2:20, 9:10
RED 2: 12:10, 2:55, 5:40, 8:30
SMURFS 2 2D: 11:50, 12:30, 2:25, 3:10, 5:00, 5:50, 8:25
THE HEAT: 4:20, 9:30
TURBO 2D: 12:20, 2:45, 5:10
WE RE THE MILLERS: 1:00, 3:45, 6:30, 7:45, 9:15
WOLVERINE 2D: 11:55, 6:05, 9:10
WOLVERINE 3D: 3:00
Mill Creek Cinema
2 GUNS: 1:30, 4:10, 6:50, 9:30
DESPICABLE ME 2 2D: 2:55, 7:50
ELYSIUM: 1:10, 3:50, 6:35, 9:20
PERCY JACKSON: SEA OF MONSTERS 2D: 12:45, 6:05
PERCY JACKSON: SEA OF MONSTERS 3D: 3:30, 8:40
PLANES 2D: 12:55, 3:20, 5:50
PLANES 3D: 8:15
SMURFS 2 2D: 12:20, 3:00, 5:40, 8:10
TURBO 2D: 12:30, 5:25
WE RE THE MILLERS: 1:00, 3:40, 6:20, 9:00
WOLVERINE 2D: 12:05, 3:05, 6:10, 9:10
Minor Theatre
2 GUNS: 3:45, 6:20, 9:00
ELYSIUM: 3:35, 6:10, 8:45
WE RE THE MILLERS: 3:55, 6:35, 9:15