Famous Director Eats a Shoe Tonight in Arcata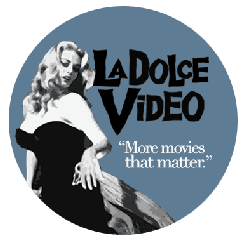 In an era of YouTube, Netflix and countless other video on demand services, you'd have to quite batty to be in the brick and mortar video rental service biz, right? Well, tonight provides you the opportunity to party with such wackos.
On Thursday, Arcata's La Dolce Video will celebrate four years of providing Humboldt with actual human faces to help find, recommend and consume films, often hard-to-find, out-of-print and/or forgotten gems. How do movie geeks get down? By locking down the Arcata Theatre Lounge and watching movies by offbeat director Les Blank of course!
In addition to a DVD sale, La Dolce will screen three of Blank's films:
Werner Herzog Eats His Shoe (1980): Yes, that. Badass German film director follows through on a promise to a friend and eats a shoe live on stage. (Watch a bit of that below.) 20m.
Always For Pleasure (1978): A look inside New Orleans' street celebrations featuring music by Professor Longhair, the Wild Tchoupitoulas, the Neville Brothers and more. 58m.
Garlic is as Good as Ten Mothers (1980): An exhaustive, lip-smacking foray into the history, consumption, cultivation, and culinary and curative powers of allium sativum. 51m.
Congrats, La Dolce, and thanks for four years of nerdtastic passion. Keep rentin' movies, HumCo. Other Thursday options in your Lowdown below.
-Andrew Goff
The Lowdown Fun Committee
Larry Likes
Events
Movie Showtimes
Broadway Cinema
ELYSIUM: 10:00
PLANES 3D: 7:00
Mill Creek Cinema
2 GUNS: 12:30, 3:10, 5:50, 8:30
CONJURING: 1:15, 4:00, 9:20
DESPICABLE ME 2 2D: 12:20, 2:55, 5:25, 7:50
ELYSIUM: 10:00
PERCY JACKSON: SEA OF MONSTERS 2D: 12:50, 6:05
PERCY JACKSON: SEA OF MONSTERS 3D: 3:30, 8:40
PLANES 3D: 7:00
SMURFS 2 2D: 2:45, 6:30, 8:20
SMURFS 2 3D: 12:45
TURBO 2D: 12:55, 3:20, 5:45, 8:10
WE RE THE MILLERS: 1:00, 3:40, 6:20, 9:00
WOLVERINE 2D: 11:45, 5:20
WOLVERINE 3D: 3:25, 9:10
Minor Theatre
2 GUNS: 3:45, 6:20, 9:00
WE RE THE MILLERS: 3:55, 6:35, 9:15
WOLVERINE 2D: 5:30, 8:30