Friday, March 7, 2014
HUMBOLDT COUNTY, CALIFORNIA
Mike Dronkers / Wednesday, Oct. 16, 2013 @ 4:30 p.m. / Ocean , Podcast , wildlife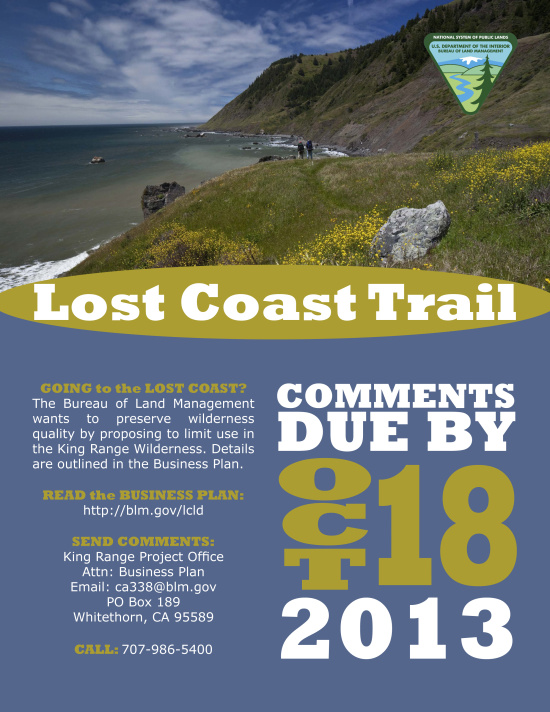 The rugged Lost Coast and King Range are Humboldt's backyard playground. From hiking the famed Lost Coast Trail to mountain biking in the King Range, proposed new rules might complicate your weekend jaunt.
From the Bureau of Land Management's plan:
The Wilderness Permit Program would, for the first time, limit overnight use in the King Range Wilderness and Backcountry through an allocation system administered through the National Reservation Service at Recreation.gov.
On the upside, limiting the number of hikers/hunters/surfers in the area will reduce reported impacts such as litter, human waste, and generally preserve the ruggedness that makes the King Range so attractive in the first place.
On the downside, to the local users who are used to regularly dropping in when weather and ocean conditions permit, the proposed fees and limitations introduce a new level of red tape, if not total prohibition of entry.
For instance, if they allow 60 "starts" to enter the wilderness per day and you show up as #61, you could be disallowed entry.
Wes Smith of Surfrider Humboldt spoke on Coastal Currents today to give his view.
Further reading: Lost Coast Outpost.
---
---
Mike Dronkers / Wednesday, Aug. 28, 2013 @ 10:37 a.m. / wildlife
The Arcata Eye reports that Arcata's "Yakmen" say they aren't exactly pleased with how they've been treated by their community.
A frequent topic of this radio show, the Yaksmen tell the Eye that they are committed to peace, but may evacuate the 95521.
"Please inform your readers and general public that though reported as argumentative, in fact, the 'Yakmen' are committed to peacefully non violent change from this totalitarian police surveillance state," Vanciel wrote. "Just like Gandhi, we recognize that peaceful resistance is the only way."
Go read that article. It is amazing, and discusses the below antisocial interaction [NSFW].
What do you think? Would Arcata miss these characters?
---
---
Mike Dronkers / Wednesday, Aug. 8, 2012 @ 9:17 p.m. / Environment , Humboldt , wildlife
With the PALCO/Maxxam days fading into the rearview mirror, how are the new owners, Humboldt Redwood Company [HRC], doing by comparison?
Tobias Schultz of Scientific Certification Systems [SCS] discussed HRC's forestry report card with KHUM this week.
SCS, often used by the Forest Stewardship Council to ensure sustainability, is the independent forestry auditor hired by HRC.
Read the SCS findings here. It's crazy, almost unbelievably so. You'll see a spectrum-defining contrast between the PALCO and HRC. According to Schultz, "HRC is probably the best case in forestry you can get."
A bit of background on Schultz: he's a scientist specializing in the Life Cycle Assesments of products, which is the overall environmental footprint of a given product from its construction and use until its eventual abandoment. He was a recent guest on KHUM's Coastal Currents a few weeks ago, discussing the minutiae of surfing's carbon footprint, down to the wax on the board. He thinks big about the little things.
Full KHUM Interview with SCS' Tobias Schultz:
If the SCS results seem dreamy, here's EPIC's take:
"The findings presented by SCS comparing the MAXAAM controlled PALCO with the currently operating Humboldt Redwood Company (HRC) confirm that HRC forest practices are light years ahead of what was happening on those forest lands during the Hurwitz years. Though some serious issues of concern remain with HRC, there is no question that the company has made a phenomenal transition from the liquidation forestry of MAXAAM/PALCO. What is more, staff at EPIC have great respect for the manner in which management at HRC is willing to engage with our organization, and other local environmental advocates, when addressing concerns about timber harvest plans and other issues."
Clearly, HRC's successes have been made easier by the state of the forest they acquired. Schultz adds that these certification results are unusual.
"Lumber from HRC is about the best product we've seen because usually you can't have actual recovering occurring when you're making most products. You're not going to be making the environment better when you're making a surfboard that just can't even conceivably happen. What HRC is doing, and they are a special case, is actually causing this recovery -certainly a special case. "
Read the full interview, transcribed below: