Saturday, March 8, 2014
HUMBOLDT COUNTY, CALIFORNIA
Mike Dronkers / Wednesday, Nov. 20, 2013 @ 9:42 a.m. / Feel Good , Interview
If the Coast Guard had a 'Top Gun' academy, today's guest would be Maverick.
Victoria Taylor has always wanted to be a 'Surfman,' an elite certification earned driving rescue boats through heavy breaking waves.
After seven years of training, she is the only Surfman at the Humboldt Bay Station.
So when you watch the Coasties driving those boats through waves that would give even the shrewdest surfer pause, it could be Petty Officer 2nd Class Victoria Taylor at the wheel.
Fact sheet:
The crew is strapped to the boat
The rescue boats can capsize, and take up to 12 seconds to self-right
Taking a wave wrong can cost you your teeth
She didn't move bricks along the pool bottom for Coast Gaurd Boot Camp
Taylor self identifies as a 'bad surfer' and rarely swims
Those boats don't have hatches to batten down, so adjust your slang accordingly
USCG Sector Humboldt Bay press release:
Petty Officer 2nd Class Victoria Taylor, a boatswains mate from Station Humboldt Bay, was designated a Coast Guard Surfman today – the highest qualification a coxswain can achieve in the Coast Guard. This makes her the Coast Guard's 484th Surfman. She is only the sixth female Surfman in Coast Guard history to receive the designation and the very first from Station Humboldt Bay. Additionally, she is currently the only watch-standing active duty female Surfman in the Coast Guard.

Being designated a Surfman puts one in a very elite group – only 5% of Coast Guard coxswains, or small-boat drivers, receive the qualification, which typically takes years to earn. It took BM2 Taylor seven years to earn this prestigious qualification.

There are 20 designated "surf" stations in the Coast Guard, located in areas that regularly experience significant surf conditions (waves that pass over shallow areas and break). Station Humboldt Bay, located on the south end of Samoa, is one of them. While regular lifeboat coxswains are qualified to navigate their vessels into heavy seas, only Surfmen are allowed to navigate into breaking waves.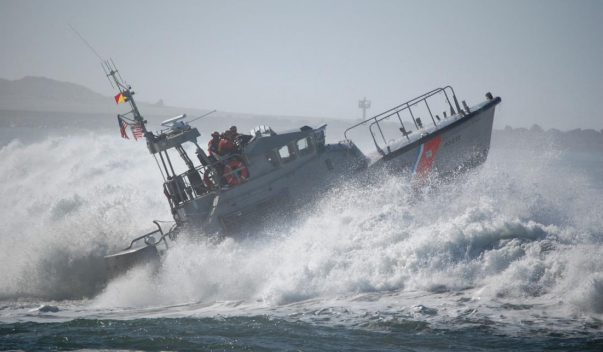 Above: A Station Humboldt Bay 47' Motor Lifeboat driving through breaking surf.
---
---
Mike Dronkers / Friday, Nov. 15, 2013 @ 1:13 p.m. / Feel Good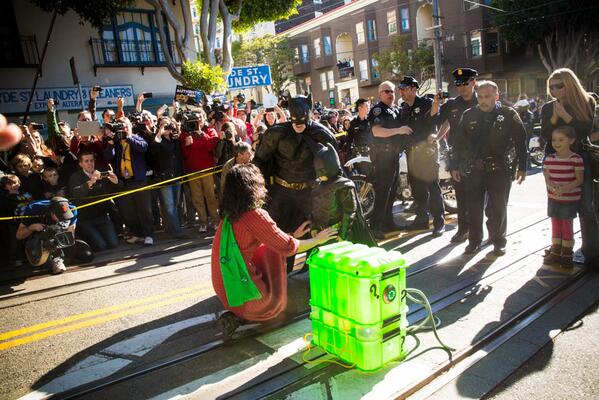 #SFBatkid is blowing up everyone's feeds right now. So basically, thousands of people helped this kid go superhero, save a damsel, and be a hero.
According to Jezebel:
Huge crowds gathered in San Francisco today to cheer on Bat Kid, aka Miles, a 5-year-old who is battling cancer, saving Gotham City, and making it rain all over the entire internet's face. Don't believe me? Try to get through all these pictures of the pint-sized crime fighter without breaking down a tiny bit. I'm not crying — you're crying! ALL OF YOU ARE CRYING.

Miles has been battling cancer since he before his second birthday, according to the Los Angeles Times. But what he really wanted to do is normal 5-year-old kid stuff. Uh, like be Batman. And so the Make-A-Wish foundation, along with the entire city of San Francisco came together to transform the place into Gotham City.
HIGH FIVE, SAN FRANCISCO.
---
---